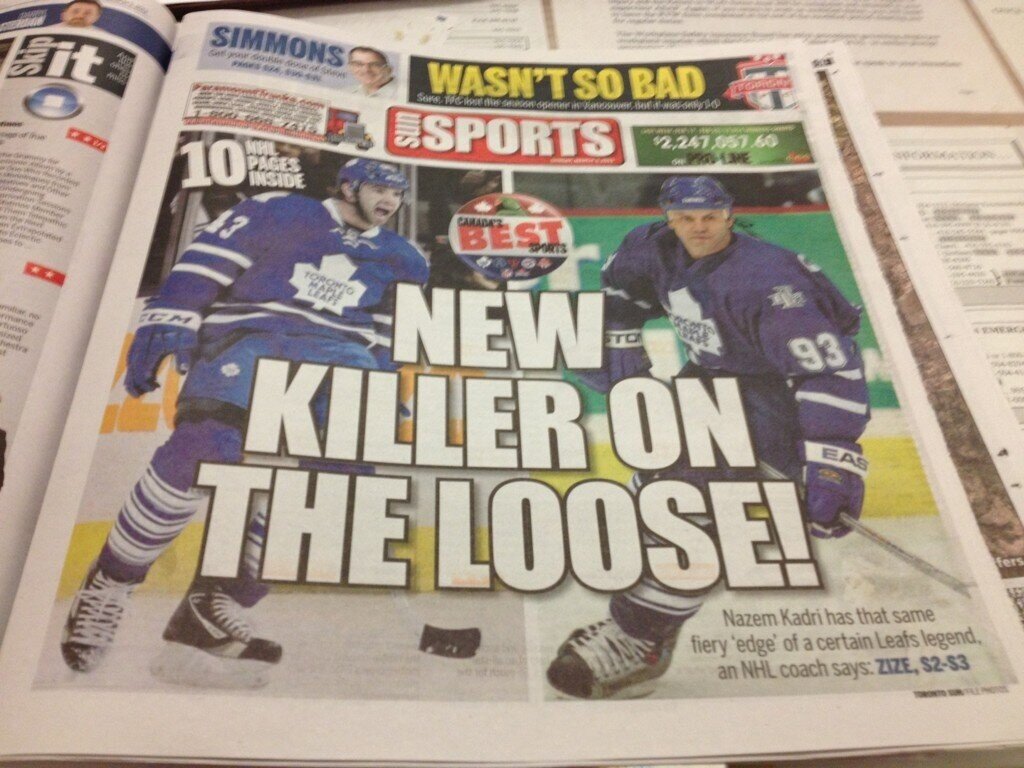 Leave it the Toronto Media to jump the gun. You don't need to look back very far to find examples of the Toronto Sun and it's peer papers being hasty to throw heavy praise or heavy criticism to young Leaf players. It wasn't long ago that Luke Schenn was our future franchise defender and captain, not long before that Kadri was a bust  because he couldn't crack 100 points in the OHL , and for the older fans we remember how the  Leafs looked set for centre depth for the next decade with Wellwood/Antropov/Stajan/Steen down the middle. Funny how quickly things can change.
So fan hesitancy to jump on the early season Kadri wagon is understandable, and when the Sun's printed the "New Killer" article early in what would be Kadri's first season starting with the big club many of us though "Here we go again." I too was one of them, don't get me wrong, being a Leaf fan since birth, and a Middle Eastern man myself the idea of a young Lebanese reincarnation of Doug Gilmour leading the Leafs back into the play-off's to end the drought sounded good, too good, and out of a fear of disappointment I shut myself out to the possibility that Kadri could maintain his scoring pace, his ferocious on ice intensity and be the next heart of the team. But, he has somehow managed to not only sustain his play, but continue to improve it.
In honour of Kadri's recent play here at LeafsHero we look to break down Kadri's game and draw the parallels he's shown to the former Leaf's great.