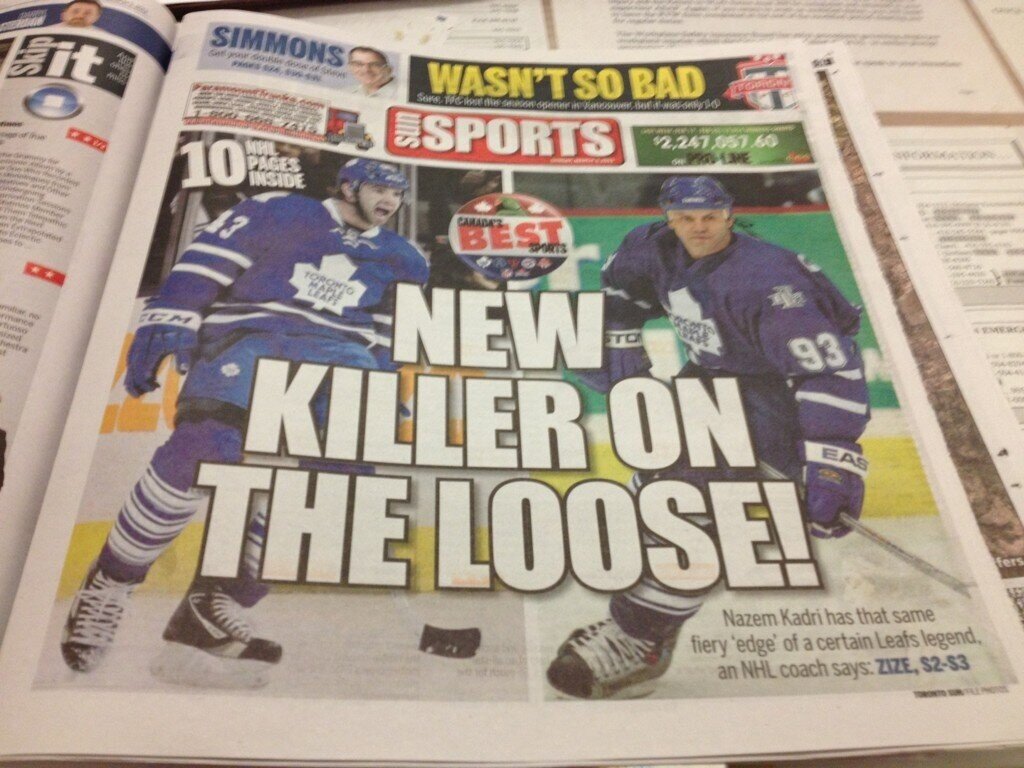 Leave it the Toronto Media to jump the gun. You don't need to look back very far to find examples of the Toronto Sun and it's peer papers being hasty to throw heavy praise or heavy criticism to young Leaf players. It wasn't long ago that Luke Schenn was our future franchise defender and captain, not long before that Kadri was a bust  because he couldn't crack 100 points in the OHL , and for the older fans we remember how the  Leafs looked set for centre depth for the next decade with Wellwood/Antropov/Stajan/Steen down the middle. Funny how quickly things can change.
So fan hesitancy to jump on the early season Kadri wagon is understandable, and when the Sun's printed the "New Killer" article early in what would be Kadri's first season starting with the big club many of us though "Here we go again." I too was one of them, don't get me wrong, being a Leaf fan since birth, and a Middle Eastern man myself the idea of a young Lebanese reincarnation of Doug Gilmour leading the Leafs back into the play-off's to end the drought sounded good, too good, and out of a fear of disappointment I shut myself out to the possibility that Kadri could maintain his scoring pace, his ferocious on ice intensity and be the next heart of the team. But, he has somehow managed to not only sustain his play, but continue to improve it.
In honour of Kadri's recent play here at LeafsHero we look to break down Kadri's game and draw the parallels he's shown to the former Leaf's great.
His Edge and Intensity
We'll start with the easiest one, his attitude, his swagger, his intensity, his passion, what ever you want to call it. The thing that allows him to be aloof to how small he is and fight and hit the leagues bigger players, that  thing that allows him to yap at every player on any team with out any fear of consequence, that thing that gets him fired up after every goal he scores.
"He's always played like that, even when I coached him in junior," DeBoer said,  former Head Coach with the Kitchener Rangers during Kadri's tenure there and current New Jersey Devils head coach, "He's always played with an edge. He plays with the same edge as Doug Gilmour did."
Leave it a single comment by a head couch south of the border to light Toronto Media on fire, Reporters were quick to remind DeBoer of Gilmours status as Hockey Legend in Southern Ontario, a Cup Winner, Selker Winner, Hart nominee, regular All-Star and Hall of Famer. DeBoer didn't back down from his comments.
"But that's how much I believe in this kid. He really does play with an edge like Doug Gilmour. He's not scared of anyone out there."
Regardless of where you stand on DeBoer's comments, that last point is hard to argue. Kadri is not scared of anyone, anywhere. During the Leafs 3-2 loss in Boston on Monday Kadri played a physical game against Bruins captain Zdeno Chara, an 81 inch 255 pound mammoth on skates, something a Leafs skill player hasn't done since Chara was just a baby ogre in Ottawa. Kadri went as far as knocking Chara on his but in the third period, and driving him into the ground in the dyeing seconds of the third, something Chara didn't take kindly to.
"It's not fun, but you got to do what you got to do." said Kadri, regarding hitting Chara
"You got to let them know theirs a little fight, a little push back in us, you know going shoulder to should with him I think I knocked him down a couple times."
A little push back, a little fight, something the Leafs skilled group has been missing for awhile. Kadri's game in Boston was not an exception to his regular play, but just one more example in a series of plays which have shown Kadri's never back down attitude. Kadri had his first NHL fight with Tampa Bay 6'5, 233lbs D Viktor Hedman. A video of the fight can be found here on youtube. Hedman wasn't Kadris first pro-fight though, Shirokov, Moon, Cuma and others have dropped the gloves with Kadri in the Leafs AHL affiliate Toronto Marlies.
Kadri's 6'0 185lbs frame (2 inches and 10lbs larger than Gilmour ) may look small on paper, but even in an era where most players are 6'1 or greater weight north of 200lbs on the ice Kadri does not look out of place.
"He's fearless on the ice which compensates for his small frame. " – hockeys future
"…Once the game starts, he flips a switch, and he's a really intense guy." – Joffrey Lupul
"I remember my friend Mark Hunter, the GM of the London Knights, telling me, 'Dougie, this kid plays hard and tough and competitively. He plays with the same edge as you did,' " Doug Gilmour
"This is a kid you win championships with, He helped us win one (OHL) in Kitchener in 2007-08." – DeBoer
 Offensive Ability
Much of Gilmour's legacy is defined by his elite defensive play,  leadership and intensity, almost so much that it can be easy to forget how dangerous Gilmour was with the puck. While having only passing 30 goals four times in his career, Gilmour eclipsed 100 points on three occasions, and was 5 assists short of having a 100 assists season to add to his legacy.
Kadri is no offensive slouch, gifted with soft hands, elite level vision and natural offensive instincts, Kadri has all the up side to play an Offensive game similar to Giroux or Datsyuk. (Not comparing him to either All-Star as an over all player, but that he does have the ceiling to be able to reach their level offensively.)
Looking for trajectories to compare Kadri with Gilmour is very difficult since Gilmour went straight from the OHL to the NHL, while Kadri spent time refining his game in the AHL. When you compare the players by age you can see Gilmour has a better junior career and a better start to his NHL career than Kadri did, but Gilmour didn't break out until he was 23, something Kadri may be doing now at 22.
OHL
Gilmour
| | | | | | | | |
| --- | --- | --- | --- | --- | --- | --- | --- |
| Age | Team | League | GP | G | A | P | PIM |
| 18 | Cornwall Royals | OHL | 67 | 46 | 73 | 119 | 42 |
| 19 | Cornwall Royals | OHL | 68 | 70 | 107 | 177 | 62 |
Kadri
| | | | | | | | |
| --- | --- | --- | --- | --- | --- | --- | --- |
| Age | Team | League | GP | G | A | P | PIM |
| 18 | London Knights | OHL | 56 | 25 | 53 | 78 | 31 |
| 19 | London Knights | OHL | 56 | 35 | 58 | 93 | 105 |
Gilmour's time in the OHL was amazing to say the least. Gilmour did play 20% more games each season, and played in a higher scoring period of junior hockey, but Kadri's 1.6 points per game can't compare to Gilmour's 2.6 points per game in their respective second seasons.
Gilmour
| | | | | | | | |
| --- | --- | --- | --- | --- | --- | --- | --- |
| Age | Team | League | GP | G | A | P | PIM |
| 20 | St. Louis Blues | NHL | 80 | 25 | 28 | 53 | 57 |
| 21 | St. Louis Blues | NHL | 78 | 21 | 36 | 57 | 49 |
| 22 | St. Louis Blues | NHL | 74 | 25 | 28 | 53 | 41 |
Kadri
| | | | | | | | |
| --- | --- | --- | --- | --- | --- | --- | --- |
| Age | Team | League | GP | G | A | P | PIM |
| 20 | Toronto Maple Leafs | NHL | 29 | 3 | 9 | 12 | 8 |
| 21 | Toronto Maple Leafs | NHL | 21 | 5 | 2 | 7 | 8 |
| 22 | Toronto Maple Leafs | NHL | 34 | 14 | 21 | 35 | 19 |
Comparing different era's of hockey with out knowing each players respective time on ice, power play time, line mates, and other scoring pace related factors creates some challenges. As a general observation though Gilmour flirted with around a 60 pt pace till he was 22 year's old, right before he exploded for his first 100+ point season, then settled in as an 80-90 point player for the next half decade or so of his career. Kadri may or may not be on a similar trajectory. Kadri has not had the same consistent success leading up to his break out season this year, but it's easy to argue that he was never given the chance. Like Gilmour, Kadri may have been able to put up 60 points if given a full time role with the Leafs the past three years, but instead has seasoned his game in the AHL and may be able to have the break out season Gilmour had,  just one season sooner, as Kadri is currently on pace for an 84 point, pro-rated, season, and if he sustains his play he too could be a steady 80-90 point player for the Leafs for the next half decade.
When comparing them qualitatively, Kadri's puck handling skills may already be greater than Gilmours was in his prime. In term's of vision and play making one could argue Kadri could already be on par with what Gilmour's was, but the variable that had Kadri behind Gilmour offensively is that Kadri has yet to develop his shooting to be as quick, powerful, accurate and as versatile as Gilmour's.
If Kadri maintains his current ability, he won't be able to touch any of Gilmours numbers, but for a 23 yr old just breaking into the league we still haven't seen what Kadri's ceiling is, and look no further than Mr. Gilmour himself to tell you that Kadri still has room to improve. "From what I've seen, he plays hard,And there seems to be a lot of untapped skill there." – Gilmour
Defensively
Comparing defensive ability may be on the most difficult aspects of a players game to compare, at some point all you can really do is watch the players play and decide for yourself. But for many of the younger fans who didn't have the pleasure to see Gilmour in his prime, we'll try to compare the two. It's well known that Kadri carried an early reputation of being a liability in his own end, something Wilson did not try to keep secret during his tenure in Toronto, but Kadri, under the watchful eye of Marlies head coach Dallas Eakins has reinvented that element of his game,  improving his positioning, face-off ability, and back checking. Kadri has become much better having an active stick in his own zone, and clogging up passing and shooting lanes more effectively. Carlyle has noticed this improved play and has begun matching Kadri up against opposing top lines, and playing him in games during the final minute when holding a lead. In term's of defensive ability not much needs to be said in regards to Doug Gilmour, look into his trophy cabinet and see his Selke Trophy and that should be all you need to know. Gilmour was not just a good player in his own end he was one of the best two-way players of his era, something that cemented his spot in the Hockey Hall of Fame.
Final Verdict
When looking at their styles of play, in terms of how passionate they are, the physicality they play with regardless of their small frame and their overall edge they bring to the ice, then it's very easy to see a lot of Gilmour in Kadri. When you look more to offensive ability, you see that in many ways Kadri is already as good or has the potential to be as good as Gilmour was, except for Kadri's shooting, which, though is NHL calibre, is not on the elite level's that Gilmours was. Finally the biggest gap is seen in their defensive play, while Kadri has been steadily improving in that aspect of his game and may by the end of this season establish himself as an average or above average player in his own end, he likely will never be considered an elite two-way player, or have his name close to any Selke Trophies.
Kadri is already a fan favourite and is only gaining popularity as time passes, Kadri has all the potential to be a consistent 80-90 point player, he has all the potential to be a leader for  Leafs down the road with the C on his jersey and Kadri may even have the potential to score 95 assists, but whether he can do them all, is still yet to be known.